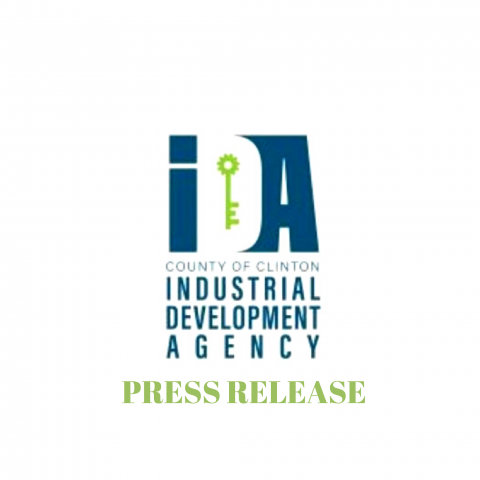 For Immediate Release:                                                                                              Contact: Dorothy Brunell
January 5, 2022                                                                                                                         (518)565-4631
***Press Release***
The County of Clinton Industrial Development Agency (CCIDA) and the County of Clinton welcomes Molly Ryan into the role of the Executive Director to the CCIDA and the Director of Economic Development for Clinton County. Molly Ryan was previously the Chief of Staff for Assemblyman Billy Jones and brings a wealth of experience and knowledge to the realm of economic development in the North Country Region.
"We are excited to have Molly Ryan on board at the CCIDA," said Trent Trahan, Chairperson of the CCIDA /CCCRC Board of Directors. "Molly's regional knowledge coupled with her experience in the private and public sector have given her a solid foundation to carry out the role of Executive Director for the CCIDA. I look forward to working with her and continuing to foster growth in Clinton County."
For the last five years, Ryan served as Chief of Staff to Assemblyman Jones. During her tenure with the State Assembly, she focused on local legislative issues in areas of rural health, infrastructure and the local environment. In the district, she also worked with local community leaders, elected officials, and constituents to advance the economy of our region and ensure everyone had their voice heard.
"I have been privileged to work with Molly Ryan over the last two decades," said Mark Henry, Chairperson of the Clinton County Legislature. Molly and I worked together in real estate almost 20 years ago and I continued to work with her in various roles in public service; I have always been impressed with not only her professionalism, but her continued foresight in resolving issues and creating solutions. This job is about the ability to build relationships and Molly's passion for her community, accompanied with her congenial character make her a perfect fit for this role. I have no doubt that she will work hard for the people of Clinton County and I am thrilled to have her in this position."
 "Molly Ryan's enthusiasm, experience, and love for Clinton County will provide the spark that will ignite a fresh new approach for development in our area," said Patty Waldron, Area 6 Clinton County Legislator and Chairperson for the Economic Development Committee.  "I honestly cannot think of a more qualified person for this leadership position."
"We have had the pleasure of working with Molly on many area economic development priorities in recent years during her time with Assemblyman Jones," says Garry Douglas, President of the North Country Chamber of Commerce. "We now look forward to working actively with her in her new role. She brings great experience to the position and will be a great partner as we work on such opportunities as further development at Plattsburgh International Airport, redevelopment of the old airport site, and a number of positive projects on the way over the next few years.  Clinton County and the IDA have chosen well. Onward and upward!"
"As a lifelong resident of Clinton County, I look forward to continuing to help the region, which I know and love as my home, continue to grow and flourish," said Ryan. "As the Executive Director to the CCIDA/ Director for Economic Development for the county, I look forward to continuing to build relationships in the business community and with area stakeholders. These relationships are key to building bridges throughout the region to address workforce development and business expansion. Our area is in a strong position and I am excited to hit the ground running and bring more success stories to the North Country."
In addition to her time with Assemblyman Jones, Molly Ryan has a long career in public service, having previously worked as the Constituent Liaison for Congressman Bill Owens for almost five years. Additionally she worked as the Community Outreach Manager as well as the Manager of Volunteer Services at the University of Vermont Health Network-Champlain Valley Physicians Hospital. Molly Ryan is a graduate of St. Lawrence University and resides in Rouses Point with her husband, and two children.
-30-