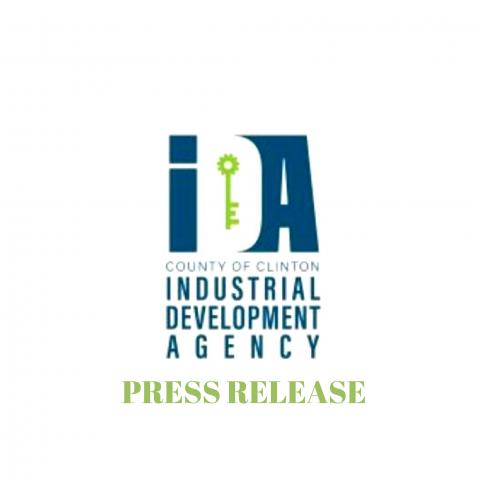 For Immediate Release:                                                                                              Contact: Dorothy Brunell
February 4, 2022                                                                                                                       (518)565-4631
***Press Release***
     The Clinton Grant Facilitation Corporation (CGFC), a subsidiary of the County of Clinton Industrial Development Agency (CCIDA) is pleased to announce that they have been awarded $1.4 million from Governor Kathy Hochul as part of the Passenger and Freight Rail Assistance Program, administered by the New York State Department of Transportation. This award will allow for the expansion of commodity handling capacities and construction of an additional rail spur at the site of South Junction Enterprise's Bulk Transfer Facility.
     "This is certainly welcomed news for the CCIDA and we thank Governor Hochul for recognizing the potential of this project," said Trent Trahan, Chairperson of the CCIDA/CCCRC Board of Directors. "Certainly the North Country is no stranger to nationwide supply chain issues, and strategic improvements, like these in freight rail, will undoubtedly go a long way in helping North Country businesses meet supply needs while getting their products out the door."
     "In 2015, my brother Tanner and I embarked on a pipedream of opening a rail yard," said Troy Baraby, Co-Owner of South Junction Enterprises. "Never could we have imagined that we would now be servicing 415 railcars in 1 year, quadrupling our initial business, with demand continually on the rise. This funding will allow us to further our rail capacity which certainly contributes to the overall economic growth of our region. We thank the Clinton County IDA for their partnership in securing this funding and look forward to continuing to improve our community."
     "The County of Clinton Industrial Development Agency takes great pride in working with visionaries like Troy and Tanner Baraby," said Molly Ryan, Executive Director CCIDA. "South Junction Enterprises saw a need and they worked hard to meet that goal. The CGFC/CCIDA was happy to be a conduit to secure this funding which will certainly help foster continued development and expansion in our region. We encourage entrepreneurs with similar visions to contact us so we can continue to partner on infrastructure projects that support economic advancements in Clinton County."
     "The North Country Chamber has long said that where things move is where prosperity occurs," says Garry Douglas, Chamber President. "South Junction Enterprises under the leadership of Tanner and Troy Baraby has made rail an important part of our manufacturing and agricultural economies, and this further investment in its facilities and capacity will allow future growth in its operations. We congratulate and thank South Junction for its continued commitment to the area economy and we thank the Clinton County IDA for supporting its future. Onward and upward!"
     This award comes as part of the $76.4 million in funding for 38 projects across the state dedicated to renew and modernize New York's freight rail infrastructure. The South Junction project will consist of a new railroad track 2,700 feet in length that will connect to existing trackage and one storage silo, which will result in doubling the facility's capacity. This will further overall rail capacity, volume and functions of the 55 acre transload facility which is located in the Town of Plattsburgh.
-30-