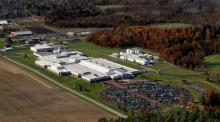 Empire State Development (ESD) and Clinton County announced in April 2013 that Clinton Industrial Development Acquisition, LLC (CIDA) has entered into a contract for the purchase and sale of the former Pfizer Chazy property with local business investors Victor and Stephen Podd of Northstar Private Capital LLC. Northstar's multi-use redevelopment plan includes the relocation of Powertex Inc.'s Sealiner® manufacturing facility to New York, creating 22 new jobs within one year. Additional re-use components for the facility include life science and bio-tech R&D, incubator, and warehouse and distribution space.
In May 2012, Pfizer Inc. and ESD announced the sale and transfer, for nominal consideration, of the Chazy property to the Clinton Industrial Development Acquisition, LLC (CIDA, LLC); a single member limited liability company wholly owned and controlled by the County of Clinton IDA. The facility was conveyed to the LLC in order to prevent the building from falling into the hands of a liquidation entity that would have scrapped anything of value and thus destroyed potential for future job creation. ESD provided the CIDA, LLC with a operation subsidiary grant of up to $1.2 million to help, maintain and market the facility for a period of two-years in order to encourage new long-term economic development investments and job growth at the site.
The County of Clinton IDA authorized a PILOT deviation to the Northstar project. The IDA has also authorized a new affiliate that will sponsor with SUNY Plattsburgh Start Up NY program and Northstar to facilitate the use of Start Up NY program benefits at the Northstar facility.